Monday, May 10, 2004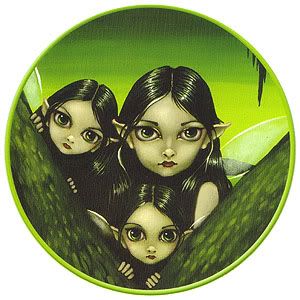 ______________________________________________________________________________
All Things Considered
Last night we invited our neighbours over for wings and ice-cream. We invited them over before we realised that the last episode of
Survivor
was on. Thankfully, they weren't opposed to watching it and what a show it was! The person who I felt should have won the show didn't, which wasn't as big of a shame than it would have been given the situation. I like the
Big Twist
that they inserted at the end though, giving the viewers a chance to vote for one out of the 16 all-stars that they feel should get a million dollars. I think it would be a good idea if we all
Vote for Rupert
. Rupert is probably one of the worst Survivor players ever, in the sense that he is not very adept at playing the game. On the other hand, Rupert is the one person out of the 16 that I would love to see get 1 million dollars. Sure, you could probably draft some pretty compelling arguments about someo f the other players, but I've run them all through my head and my mind is made up.
Survivor aside, it was really fun to have people over at my place. we were all talking about everything under the sun and I can see myself hanging out with these people on a regular basis. Perhaps even a trip to a water park or
Playland
. I don't want to look over-eager though and I'll be waiting for them to make the next moves but it's been a while since I've enjoyed the company of people my age and I'm really really liking it. Not to mention they love getting together and playing board games which is a deliciously cheap alternative to a night out on the town. Plus it's more fun to get drunk when you know that you can take the lift down two floors and be in your bed in 10 seconds.
The conversation last night got 'round to cats and kittens. Both couples have two cats each and I was lamenting about how I would love two cats. Jim would love a kitten and then we remembered that there's one kitten in
Pet Habitat
. It's an orange tabby, male, and very affectionate. Incredibly adorable and I've always wanted an orange cat. In case anyone was forgetting by now, Gato hates other cats. But if we get a kitten that's young enough, apparently it would not be as difficult to introduce one to her. The orange one at Pet Habitat is a little too old for this purpose but
these kittens
aren't. Jim's really hot on the idea of another cat, but there are so many things to consider.
Gato will not gladly share her domain with another cat. She and she along is the queen of the universe and has been known to scare off cats three times her size. What will she do to a cat a third of her size? Plus, I will not have alot of time until about June 20th. The problem with waiting that long is that we are already approaching the end of the kitten season as it is. Waiting until then would mean that wouldn't be any kittens for us to choose from, really. It is also very selfish of me to think in those terms too considering that Jim will be home in the evenings, only pulling 8 hour days in which it would be no trouble to keep the kitten in the bedroom and Gato outside. Again, Gato will not appreciate being restricted in her domain. There is also the issue of having two cats it would be harder to move and travel should we have two cats. Cats are 20 year commitments and Jim and I certainly hope to devote a year or so to travel in the next little while. I'm sure his dad will have no problems taking care of one cat. But two cats?
There's a very strong argument to having two cats though. Once they get over the initial "you're in my space" issue, they become fast friends. I think it would be invaluable for Gato to have a friend of her own despite the fact that I love the idea that she's very much my cat and follows me all over the place. I'm not at home all the time and perhaps she needs more company than what I'm able to give her. I'm thinking about it hard and I'm going to place a few phone calls today to see what options I have available to me. I love Gato and I wouldn't love her any less despite the fact that I have always wanted an orange cat and that kittens are so cute. I'm just wondering if getting a little orange kitten is not as bad an idea as I initially thought it was.
This week will also be the week that I'm stuffed wit activities. They are better planned than the last 60 hour week that I pulled, however, and all the activities are absolutely voluntary. If I do end up getting a kitten, it will be the second year in a row that I get a cat and then jet off to choir camp. It's a rather worrying pattern to establish, but I think my kitty will be okay for three days without me.
One last note: Now that I have the internet at home, I just looked at my blog through the latest version of Internet Explorer. Needless to say it is way more advanced than the
Mozilla
browser that I have been using at work. I will assure everyone that it looks awesome on Mozilla, and I will be pulling long shifts next week to make sure that the rest of the world using the most up-to-date browsers will be able to see that I'm not blind, that my alignment skills are not out of whack and that I have a good eye in general.
posted by Joie! at 12:36 p.m.
______________________________________________________________________________