Monday, May 03, 2004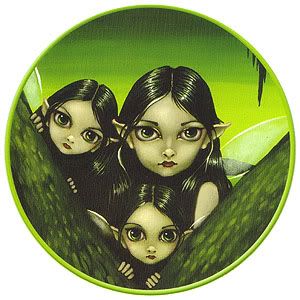 ______________________________________________________________________________
R&R
I got alot done this past weekend, but it was also immensely refreshing. I need more weekends, and I think I will commit to making sure that I get them.
On Saturday Jim and I put up signs for Mrs. Maguire's Garage sale and managed to slip away at 9:30am. I bought a nice set of three nesting tins, a deep pink with orange borders and hearts. Then we trekked over to the Coquitlam area and bought a
new fish tank
from
Pet Habitat
. It's a gorgeous 20 gal. for alot less than I should have paid. I have big plans for this new tank and for the old one too. After carting the tank home, I set it up Saturday and transferred my fish in Sunday.
I also managed to get my hands on a free futon. Technically I haven't picked it up yet, but I am going to tonight. Basically someone's moving from one of the apartment blocks near me and they are giving their futon and frame away for free. It will work nicely as a three-seater couch. This and the fish tank has inspired me to re-arrange my living room. I tried on Sunday night to get my act together and unpack the last boxes and do the dishes and un-clutter in general, but Beltane just left me exhausted, even though all I did was sit around in the sun.
Beltane was wicked awesome. The quest this year was based on the Russian Legend
Vasilisa the Beautiful
and it was a riot. Beltane is held at Jim's dad's friend
Brian Hayden
's house. It's not so much a house as it is an estate. There is a small wooded area and a creek that runs through it and two separate ponds. The quest is laid out in a trail through the wooded area and us "questers" in groups of 5-8 get to interact with the different characters in the story at different stations. The idea is that we are helping Vasilisa complete the tasks that Baba Yaga assigns her to do (on pain of her getting eaten). There's also live music with people bringing their violins and accompanied by the piano, dances by the
Vancouver Morris Men
(and if you look at their list of "performances", you can actually see Beltane listed for May 2nd!) and the planting of and a dance around the Maypole, because really, it's a celebration of spring, the earth thawing!
There was also a pot luck which according to Jim's dad is always notoriously inadequate. Not to say that there isn't enough food, but that there is never enough of each dish. My Tom Yam fish quickly disappeared! I was pleasantly surprised. I didn't expect it to take so well, it also meant that Jim's dad didn't get to eat any, which is a shame. Jim's dad's barbequed prawns disappeared before my fish did though. It was so good and he made it with a curry/garlic/sauteed onions/yoghurt dipping sauce. Luckily Jim saved him some, because we were further up the line. I had such a blast watching the dances and just sitting on the grass in the sun in general. I can't wait for next year's Beltane.
All in all it was a very relaxing weekend. The best kind of relaxing because I got much done too. I'm just thrilled to bits about my
new fish tank
and the sounds of water lapping is just too amazing. Not to mention the fact that the extra lights above the fishtank (just two 25w lamps) add a nice amound of light in the living room, which I always thought was a little under-lit. The light is soft and yellow and refracted by 20 gallons of water, I almost feel like my living room is a spa. I want to get a cheap bean bag to just throw at the floor beneath the fish tank so that I can read/listen to audiobooks while taking in the lapping of the water and the dancing light.
I have to admit that I'm feeling a little gulity about spending all this money. First on the computer and then on the fishtank (the whole set up after taxes and the table(s) that I had to buy to put it on etc. was about $100). I -could- argue that I didn't have to buy the fish tank, I just had to give my Rosy Barbs back to the pet store, but it vastly improves the space. There's something about the sounds of lapping water that is calming and peaceful. Not to mention the immeasurable pleasure derived from watching the tiger barbs dart among the swish swish swish of the Rosys. The computer? Well perhaps I didn't really need it for the summer, but once I go back to school, it will be invaluable. So, yeah I've been spending alot of money, but really, it's money well spent I think.
Now with all the improvements that have been made to the apartment, I can't wait for Jim to finish designing the rug (I have to complete the border, which is more work that I thought it would be). We also found out that
Michaels
sells canvases which is excellent because we are planning to paint our own art work. The best part about that plan is that we can sell off our art work and paint more when we tire of what's on our walls. It's more than a low-cost solution, it's a potential profit generator! So many big ideas. For the first time in three years, I actually feel like where I live is home.
posted by Joie! at 11:56 a.m.
______________________________________________________________________________