Wednesday, April 14, 2004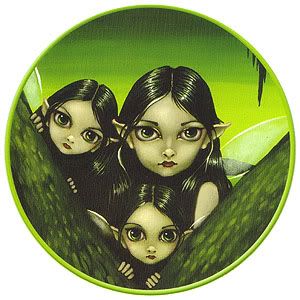 ______________________________________________________________________________
Pink Cadillac
So last night was my first real training session as a Mary Kay consultant. It certainly was an interesting experience. I am still blown away by the cheerleader over enthusiasm that oozes from every woman that has achieved significant standing in the company but I'm starting to get used to it. To be fair, that kind of in-your-face-we-are-the-best-thing-to-ever-hit-earth-so-
let's-all-jump-up-and-down-about-it attitude is prevalent in all the organizations that give you the opportunity and resources to start your own home-based business. The real reason last night was so interesting is because I learnt to put on make up.
We had hired this make-up artist from Saskatoon (if I lived in a place with such a stupid name I would kill myself. Or I would move, whichever...) and she basically recommended colours for us and then taught us how to paint our faces. I didn't know that you needed three colours for your eyes, three colours for your lips and two colours for your cheeks. Luckily for me she looked at my skin and told me that I only needed a light powdered foundation. I saw her prescribe three products for most of the people there that night just to cover up their face! I probably would not be able to deal with that. Prior to this, I have been an adamant make-up nazi. For sure I am a convert now! The difference that the right instruction and the right colours makes is incredible! I could still recognize myself in that mirror, but I was definitely happier with what I saw. Another bonus is that now that I know how to put on makeup, I'm one step closer to selling that stuff successfully.
The funniest thing. After the class ended, my team (I'm pretty sure that it's called something fancier than "team" but I can't remember now what it is) had a quick meeting in the back. Jim was supposed to pick me up at 9:30 but as we all know that when women assemble nothing is definite. So we were wrapping up our mini meeting when the rest of the team were commenting on my makeup. Diane was asking to make sure that I had a ride home and I mentioned that Jim was coming (now it's 9:55pm and I'm just thinking about poor Jim waiting in the parking lot). Then all the ladies started wondering if he was going to notice the difference. I said no, mainly because the car was going to be dark. Everyone thought that was a bit of a shame because the makeup made such a dramatic difference and we all started to come up with ideas to get Jim to turn on the light in the car without drawing reference to my face....so it would look like I wasn't turning on the light for him to look at me...you know? :P Turns out because Jim had been waiting for so long, he was behind us THE WHOLE TIME. Being the first time he had turned up at Mary Kay my team had no idea that -he- was Jim... *hee hee hee hee*
I've just realised that I don't talk about Gato much in my blog. That's bizarre because I talk about her incessantly in all other parts of my life. I got her from a pound about a year ago and since then she's become alot closer to me. She's become alot more affectionate and she's also started sleeping with me at night. There's something really special about the love of a cat, just because of their independent natures. A cat does not have to give you the time of day to get by. Really. So when Gato rubs up against me, joins me in bed or watches me bathe (for some reason she really really likes to watch water) it makes me feel that there must be something more to me, for me to be important to her. She doesn't need to be affectionate. She certainly wasn't when I first adopted her. But she is now. :D I love my cat.
Read more about her
here
.
posted by Joie! at 11:00 a.m.
______________________________________________________________________________