Tuesday, April 27, 2004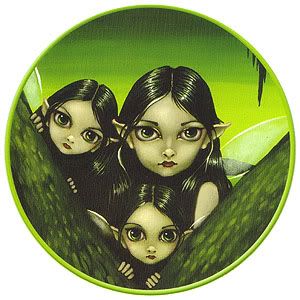 ______________________________________________________________________________
Toil and Trouble
So last night I flipped and decided that I needed to eat something very South-East Asian. Curries were out because coconut milk has an alarmingly high carb count. Well, that's not true. You could have a drink made out of coconut milk and still be okay on the diet but you can definitely NOT have a coconut milk based curry. Besides, curries are only good with rice. Stupid Atkins. I was also craving seafood, but I had to cook something that Jim would eat too. (Jim is the pickiest eater I have ever met. He will only eat white meat on poultry, and lean meat on red meat. He eats little else) So I racked my brains and decided to cook Tom Yam soup. I've never made it before, had no idea what went into it, but here's the recipie I came up with on the fly:
6 In ginger (finely grated)
1/2 cup chilli (pounded)*
1 bunch cilantro (finely chopped)
1 lb prawns (peeled)**
1 kg halibut steaks (skinned and de-boned)**
3 stalks lemon grass (smashed)
quite alot of lime juice
quite alot of oil
water
salt
(Let's ignore that I switch from Imperial to Metric as and when I feel like it. OK? Thanks)
1. Cover the bottom of the pot with oil, add chilli, ginger and cilantro. Stir over medium heat. Let it start bubbling, kinda.
2. Add the prawns and halibut (the halibut should now be in chunks). Coat with the oil/chilli/ginger/cilantro
3. Add water to cover everything in the pot. Add lemon grass and the bones that came off the halibut. Cover, turn heat to high and bring to a boil.
4. Simmer until fish is firm and opaque and prawns are bright pink. About 5-10 mins
5. Splash in lime juice and sprinkle salt until you think it tastes like Tom Yam
*the chilli came out of a jar, I bought it in the "Asian foods" aisle
**peeled/de-boned/skinned so Jim would eat it
I was damn impressed with the results. It was so frigging good and I made such a big pot that there's plenty leftovers. I watered it down a little after dinner trying to make it stretch further but that was a bit of a mistake. It's still good, but it was better before. I think I might be able to fix it if I add more lime. Mmm seafood Tom Yam soup. Totally made up for the fact that the Induction phase of Atkins is so limiting. I served it up with chopped cucumber with salt, flavoured oil and raspberry. A nice, cool contrast to the spicy strong flavours in the soup.
I feel like there's wasted potential in me because I'm not developing my culinary skills (unless you count watching the food network). Then again there's alot of potential that I have that I'm not developing. I'm shirking karmic responsibility here. I'm doing something about it though, I just don't want to publicize it just in case that I develop my potential and it turns out not to be all that fantastic. If I'm successful though, I'm going to be spreading the word. I'm of the school of thought that if you don't succeed, obliterate all evidence that you actually tried. I think I will succeed though and I'm excited to get started. *mysterious look*
Meanwhile, I have been going on a book search. I've had a sudden craving for
John Bellairs
and I guess he wasn't all that well known resulting in most of his books being now out of print. I don't know why though, his books are frigging awesome, a really easy read. He wrote primarily children's books but he wrote one adult novel, called "The Face in the Frost".
Chapters
tried to get me to pay $36.50 for the book (not including shipping and taxes) but I found it listed on
Alibris
for $3.95 and when I contacted the seller directly, the gentleman told me that he would gladly ship the book for $2.50. I also found
this
on
eBay.ca
for only $5USD. I'm just hoping and praying that this guy isn't going to charge me ludicrous shipping. I don't usually bid before I get shipping info, but look at it! I couldn't pass that up.
I don't know why I've never heard of Alibris before. It's an awesome website where you can find out of print books at great prices. Most of the stuff is second hand, but the book descriptions provide a good idea of the condition of the book. I appreciate that. I'm a real Nazi when it comes to book conditions. If anyone's wondering, I still plastic wrap my books and stand by that practice. Plastic wrap is really expensive here though, so I don't do it for every book. I'm just so impressed with Alibris, because I'm finding books there that
Amazon
can't connect me with.
posted by Joie! at 4:04 p.m.
______________________________________________________________________________