Thursday, November 18, 2004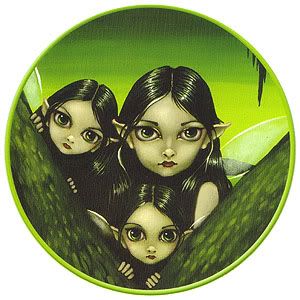 ______________________________________________________________________________
Patron Sandwich of Gamblers
No doubt by now everyone has heard about the
Virgin Mary Grilled Cheese Sandwich
. Pulled from
eBay
not too long ago as a result of eBay's no jokes policy and then returned after a conference with the seller who assured them that indeed, incredibly, she
was not joking
. This new auction ends Nov-22-04 17:22:07 PST.
Seriously. Go look at the listing. Frankly I have nothing against the sale of faith. Regardless of whether the artefact is truly holy, anything that will help people believe in this tenuous time can't be all that bad. What I do have a problem with is Diana Duyser's revised description of her item in which she presents, as one of her blessings, cumulative winnings of $70,000 from the nearby casino.
Well, I knew that Jesus wasn't a big fan of gambling, but I didn't know that his mother appears in grilled cheese sandwiches and increased casino winnings. I should become catholic, quit my job and start gambling for tuition money. Perhaps I should try and be the highest bidder of this snadwich myself and then try and pawn it off on my blackjack players for a tidy profit. Afterall, some of the regulars drop between $20,000 and $50,000 a month at our tables and slot machines. I think this sandwich would be an awesome investment for them. Also, seeing as how it's already lasted 10 years with no mold or disintegration, I'm sure it's going to last much, much longer.
Bids for this artefact have been fluctuating wildly. Due to the nature of the auction, very special precautions are being taken by both the seller and eBay. Apparently you have to email the seller to first be placed on an "Approved Bidder's list" and eBay will be calling you on the telephone to confirm your bid after you've placed it. The
bidding history
page should give some idea of just how chaotic this system is. Many people are getting on the list, and bidding and then having their bids cancelled. My guess is that they just turned on their caller ID and snickered when eBay tried to call. In fact, last night bidding was up to $69,100+. Right now, it's only $18,750. With bids starting at $3000, the highest bid to date has been $99,999,999 (incidently this is the highest amount that eBay allows to be bid on a single auction) before eBay called bullshit.
Note that if there's something on eBay that you really really want, bidding $99,999,999 on it guarantees that no one can outbid you for it. Unless of course it's this sandwich and you don't return eBay's calls.
What makes this all the more interesting is all the
media attention
that this item has garnered. The last thing that came this close to being innovative was the Ghost in the Jar (followed I guess by the possessed toaster). None of those items received any press coverage although I'm pretty sure that each (an empty jar and an old toaster respectively) made their sellers (innovative marketers, no doubt) a tidy profit.
I wonder if this sandwich is going to spoil the market for all those other borderline bogus auctions on eBay. I really wish I had thought of something this genius in the first place. For one thing, my education would be paid for. For another, I just might help cement someone else's faith. Karmically, that's got to count for something.
posted by Joie! at 9:46 a.m.
______________________________________________________________________________