Thursday, October 27, 2005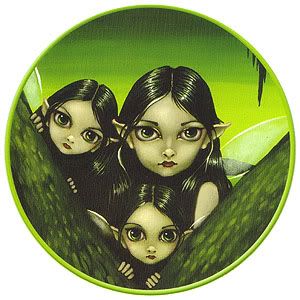 ______________________________________________________________________________
Confessions
I'm not a Catholic. In fact, religion-wise, I'm not sure I'm really
anything
right now. Still though, there are a number of things I have to get of my chest.
I really enjoyed reading Anne of Green Gables
Ehm. Yeah. *shifty look* I thought I might as well start with the worst one.
Anne of Green Gables, written by Lucy Maud Montgomery, is about an 11 year-old orphan who was mistakenly adopted out to the Cuthberts, a pair of eccentric siblings who lived in a house with
green gables
(who would've guessed) in Avonlea on Prince Edward Island. In fact, if you were to visit PEI today, you could go for the
Ultimate Anne Experience
: a tour through the places where L. M. Montgomery imagined Anne to have traversed.
To my credit, I did not begin reading the book through my own volition. It is one of the books assigned for Children's Lit. No, really. Stop looking at me that way. I will admit though, that I was scarely through the first paragraph when I knew I was in love with the book. Putting aside more pressing assignments (I had other things due before I was required to finish reading Anne) I read the book in as close to a single sitting as I could, looking up from the page only to cross major intersections.
Phew. That was easier than I thought. Next confession.
I am incredibly materialistic
I love buying new things. No. I love buying things. Period. Garage sales, second hand bookstores, traditional department stores, quaint hole-in-the-walls whose owners take trips to East Asia to stock their shops: everything and anything. Buying something gives me a high - even if it's something I might not even need/want come next sunrise. There are two reasons why this is unacceptable:
1. Money. If I made as much as Jim did (i.e. contributing equally to the household) I wouldn't feel as guilty making small stupid purchases. As it stands, I make less than a third of what he brings home every month. It thus makes no sense (although Jim doesn't mind me buying stuff) that I'm the one that gets to spend on myself more. It's not like I splash money on myself, but even a small $5 something every other day adds up.
2. Buddha was on to something when he preached about freedom from desire. I really wish I didn't want quite so much. There are days where I need a lift so bad that I lurk in stores looking for something that I might want. There are other times where (knowing specifically what I want) I haunt stores repeatedly looking plantively at what I want, reluctant to spend on it. It's time consuming and I'd sooner be rid of it.
This section segues well into the next one.
I already have my Christmas wishlist and it's growing
On the list are the two CDs by the
Be Good Tanyas
(whose song
The Littlest Birds
I was plugging on my site not too long ago) -
Chinatown
and
Blue Horse
. Other CDs I would appreciate are
Anne-Sophie Mutter
's latest release -
Mozart
,
U2
's upcoming release
Rarities 1971-2003
, something by
Norah Jones
and (this is not strictly a CD, but it's still in the music category)
Barenaked on a Stick
.
Also on the list are books by
Gregory Maguire
. I have just finished reading
Wicked
, which Jimmy bought for me as a random just-because present, and it was exquisite (incidently, there's
a musical
based on the book). The sequel to that book,
Son of a Witch
has recently hit bookstores. I'm probably going to go buy that book in late November, but all of his other books are firmly planted on my wishlist.
Speaking of books, Neil Gaiman has just come out with
Anasazi Boys
. I love Gaiman's writing. It's more visceral than things I usually opt to read, but I adore the tracks along which his mind runs. So this is another obvious entry on my wishlist. Thanks to David's 2004 Christmas gift (
1602
) I would also like the
Sandman series
.
The list continues, but I think it obscene to have already posted as much as I have 58 days from Christmas.
I also have more confessions (like "I am no longer a virgin and my mother only just found out") but
the Apprentice
is coming on.
posted by Joie! at 7:37 p.m.
______________________________________________________________________________