Tuesday, April 04, 2006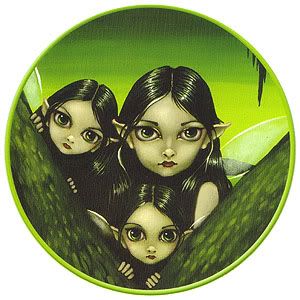 ______________________________________________________________________________
Replacement Meme
The more I read that meme the more unhappy I am with it. It was obviously written by some 13 year old (there was one line that read "I have tried alcohol" - think about it for a second) and it was long, and I'm willing to wager that most people stopped reading halfway through. It was my own meme and I couldn't read it all in one shot. It was just so irrelevant and immature. However, I didn't want to just remove the meme and leave a gaping hole in my blog. So contrary to what I usually do, I've trawled the web for some more interesting memes and am going to present one of them here. The other I'm saving for when I have enough. You'll know what I'm talking about when I get there (this "other one" is interactive too, that should get you excited).
The iTunes Oracle Meme
In this one, I put my iTunes on shuffle. These questions are answered by the songs in the order they are played.
How am I feeling today?
Not Ready to Go - The Trews
HAHAHAHAHAHAHA. Good start. "It's neverending, as far as I know...I should be leaving, but I'm not ready to go" is a good way to describe my current feelings. Goddamn it, I want it to end, but apparently, I'm not ready to go. Maybe I really should start getting ready to go by actually working on my honours thesis, but I'm just "crazy, drunk and stoned". I wish.
Will I get far in life?
Jivin' With Dal - Michael Kaeshammer
The Delphic oracle was famously cryptic, so too is the iTunes one, apparently (for reference this is a piano jazz piece that is best described as acrobatic - no vocals). I guess it's trying to say that it doesn't matter if I will get far in life, or by what measure, as long as I'm jazzin' and jivin' all the way. Yeah, alright, sure.
How do my friends see me?
London Rain - Heather Nova
Apparently all of you would like to sleep naked with me because of my fabled healing powers. Wow guys, thanks. I'm really touched.
Where will I get Married?
Runaway - The Corrs
Seriously guys, I can't make this up. Sorry for all of you who were holding out for a formal ceremony with reception after. Turns out I'm probably going to elope and get hitched somewhere far away from everyone else. I will, however provide a forwarding address for all those gifts.
What is my best friend's theme song?
Best Of All Possible Worlds - The Little Willies
I have to say that Jim is my best friend, not because it's the "correct" thing to say but because he really is. (All together now: AWWWWWWW). For those of you unfamiliar with the song, it's about a guy who's down and out, but still thinks everything's alright because "there's still a lot of wine and lonely girls/in this best of all possible worlds". Make of that what you will.
What is the story of my life?
Turn Me On - Norah Jones
This meme just gets better and better. "I'm just sitting here waiting for you/To come home and turn me on" - is this before or after all my friends have slept in the same bed as me unclothed?
What is/was highschool like?
Song for the Asking - Simon and Garfunkel
All that time I was just waiting for someone to come and ask me, acknowledge that I had something to give. I guess. You tell me what you think it means. :P
How can I get ahead in life?
Shoot the Moon - Norah Jones
See, the title makes sense. Shoot the Moon, get ahead in life. But the song is about shooting the moon and missing. I guess I can just take the title and run with it. I'm just glad that the song that came up for this question wasn't "Sonny Came Home"...
What is the best thing about me?
Somewhere Out There - Our Lady Peace
That I'm tantalizingly memorable? That's really sweet, but if you think about it, you're hardly likely to forget someone with whom you've shared a naked nap with.
What is today going to be like?
88 Lines about 44 Women - They Might Be Giants
Plenty of adult situations with lots of partners. Alright! P.S. If you've never heard this song, now's the time.
What is in store for this weekend?
Ice Cream - Sarah McLachlan
That's a little obvious, isn't it? I guess I can stop fretting about what to serve for tomorrow night's dessert then.
What song describes my parents?
Moment of Weakness - Bif Naked
Fantastic. That's just great. "I stand in the pouring rain/you couldn't even be there to pick me up...truth is - we're not even friends" and yet I keep going back to them. "I should examine my head".
To describe my grandparents?
Another Sunny Day - Belle and Sebastian
Not bad, a happy upbeat song. Last verse is a little troubling: "The lovin is a mess what happened to all of the feeling?...Ghost figures of past, present, future haunting the heart" but I couldn't tell you what iTunes is trying to tell me.
How is my life going?
Asleep on a Sunbeam - Belle and Sebastian
"All I need is somewhere I feel the grass beneath my feet/A walk on sand/A fire, I can warm my hands/My joy will be complete".
What song will they play at my funeral?
Wild Horses - Rolling Stones
It's sentimental, I guess it could be worse.
How does the world see me?
Break Me - Jewel
I'm tantalizing and fragile and I have thorns. Okaaaaay.
Will I have a happy life?
The Girl from Ipanema - Frank Sinatra
See, why couldn't this be the song in answer to the last question? That would have been incredibly flattering, but I don't think anyone would believe that it was an untampered result. I guess the answer to this question though is yes, as long as I'm supposed to be the tall and tan and young and lovely girl. If not, I'm just doomed to a life of unrequited somethings.
What do my friends really think of me?
The Only Living Boy in New York - Simon and Garfunkel
Aw that's nice guys! I thought you only wanted to sleep naked with me. Now I know that you guys think I'm in the present and that you don't want me to miss my flight.
Do people secretly lust after me?
Only in the Past - Be Good Tanyas
Oh very funny. Very very funny. I think I'm hotter now than I ever have been, just for the record Mr. iTunes sir...
How can I make myself happy?
Revolution - The Beatles
Hell YEAH! "We all want to change the world". I knew being an activist was in my future.
What should I do with my life?
Affirmation - Savage Garden
Yes, I'll admit that I have Savage Garden in my song library. So what? At least I don't have Clay Aiken. Alright, I have Clay Aiken, but only two songs. Anyways, I should spend my life providing affirmation, or I should affirm myself. Either way, I agree.
Will I ever have children?
Underneath Your Clothes - Shakira
I'm sorry Mr. iTunes sir, I'm not sure you understood the question. Are you trying to say that I will only have children if I have sex with clothes on? I'll stick with the more traditional methods of contraception, thanks. I hope you're not offended.
What is some good advice for me?
Pie Jesu - Andre Lloyd Webber's version
Oh c'mon now, you're joking right? I guess it couldn't hurt to be a little more spiritual than I am now. The only god I defer to right now is Bacchus, and because of that Mr. iTunes sir might be right in saying that I might want to pray for my liver.
How will I be remembered?
Eleanor Put Your Boots On - Franz Ferdinand
Running and flighty. For the record though, I prefer open-toed shoes.
What is my signature dancing song?
He Said - The Hippos
Upbeat and retro. Someone make me a circle skirt already.
What is my current theme song?
I'll Fly Away - Alison Krauss and Gillian Welch.
Amen sister, amen. If I could, trust me, I would. Right now.
What does everyone else think my current theme song is?
The Flower Duet - from the opera Lakme
Two priestesses singing a lament? I've always wanted someone to perform this with, but a theme song? You guys don't know me at all! *sob*
What type of men/women do you like?
American Idiot - Green Day
No comment.
Alright guys, this was really fun to do. Just trying to interpret Mr. iTunes sir's answers was a real hoot. C'mon now, you do it too.
posted by Joie! at 11:10 a.m.
______________________________________________________________________________