Thursday, March 15, 2007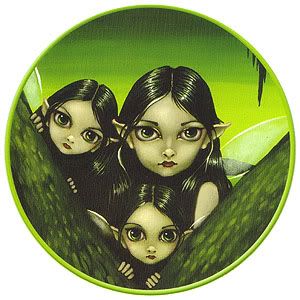 ______________________________________________________________________________
And You Think it's Tough to Get People to Say "Johanna" Right
Let me preface this post by saying that I am a veritable fount of liberal, first world guilt. I'm always acutely aware of the fact that being a South East Asian female, I could easily be stuck in a brothel, a sweatshop, caring for my 19 other siblings and/or supporting said siblings through prostitution or work in a sweatshop. I could be denied education on the basis of the fact that I don't have a penis, married off to someone with a penis who thinks that the penis makes him the unquestionable boss of me, or I could've just bypassed the whole penis/no penis thing by being killed off as an infant for having a vagina. I could be living without access to clean drinking water, or to basic medicines and vaccines. The reason all this is relevant is because I was signed up by a door-to-door today to give monthly contributions to some kind of save the world fund. I think it's actually called "
Save the Children
", but it's really just using the "children" angle as a selling point because the work it does helps communities, not just the kids.
It isn't the monthly donation directly debited from my savings account that's the point of this post though (I mean, other existing, ongoing deductions from my bank account include a
sponsored Indonesian girl
and
Greenpeace
- I told you I was a fount of liberal, first-world guilt. I'm even going to sign up as a volunteer for my local whole foods, ethical consumer market.), it's the conversation I had with the girl who came by to talk to me about Save the Children.
When it came to writing my name down on the sign-up form, she asked what title I commonly used. I always use Ms. because I think there's something fundamentally wrong about the fact that it's common practice to indicate your marital status, as though it's an integral part of your public identity, where someone who has a penis doesn't need to do the same (the implication being that unless you already have a penis, you need to let the world know about how you're doing on your quest to acquire one - seriously, what is it with the emphasis on penises?!). She misheard me and wrote "Miss" instead, and I insisted that I be put down as Ms. This then initiated a conversation about whether I would take Jim's name (she also asked what the difference was between Ms. and Miss having previously thought that both prefixes were interchangable).
It wasn't a completely out of the blue, privacy invasion question. Up to this point we were sharing details of our respective lives (she's currently seeing an ex-Canadian pro hockey player
*hawt!*
who's living in Sydney) and so the question was reasonable. I just wanted to put that out there because she really was a very nice person and I don't want people to get the impression that she was anything other than friendly and completely within the bounds of polite company.
This just returns me to the "Johanna Hobbs" problem: chiefly, that it makes me sound like a 17th century British peasant. Don't get me wrong, I would love to take his name to acknowledge the fact that Jimmymabo is the one person who has made me comfortable with who I am and inspires me daily to pursue life for my own happiness and well-being. In other words, taking his name would recognize the significant contribution he has made to my identity and self. I should note at this point that I have never before been even remotely happy with the person that I am. On the other hand, taking his name would be buying into the patriarchal idea that as a woman, I am tied to the man who is responsible for me at the time (first my father, then my husband - see also the tradition of a father giving his daughter away during the wedding ceremony).
Simple solution? Hyphenate! It's not like it's a big deal, I already have one hyphen in my name (Si-en), another one's not going to make a huge difference. Uh. Dudes. Have you considered Tan-Hobbs?! For one thing, it reads like some Brit who has spent too much time out in the sun. Most people outside of Singapore already don't say "Tan" right. In fact, Jonathan (my brother) doesn't even say "Tan" right -
and he is one
(I encourage everyone of you out there to call his cell phone and leave a message on his voicemail urging him to pronounce his own damn name correctly. You can hear him say "Jonathan Tan" on the recorded greeting).
Johanna Tan-Hobbs. What a train wreck. Maybe I should just do without a last name altogether. I mean Cher's doing just fine isn't she?
Labels: Name
posted by Joie! at 5:20 a.m.
______________________________________________________________________________